Technology
SPIRALIFT
How it works
Beneath our movable pool floors, there is a technology that has been trusted in the scenic, aerospace and automotive industries for over 25 years: The Spiralift ™.

Compact yet powerful, this stainless-steel lifting system is used by car manufacturers like Ferrari and found in prestigious venues such as the Paris philharmonic, London Royal Opera House, New York Carnegie Hall, and in flight simulators around the globe.

The newest IL150 & IL250 Spiralift ™ models, built with 316L Stainless Steel and adapted for aquatic environments allows for the smallest closed height and probably one of the highest load capacity in the industry.
IN HARMONY
WITH YOUR LIFESTYLE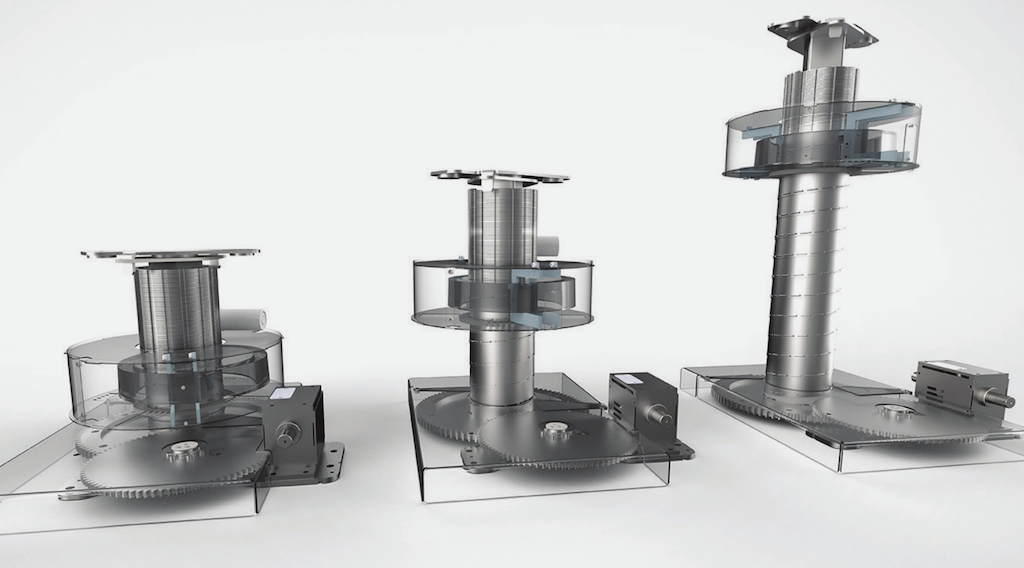 With Unikpools Spiralift, reconfigure your living space or backyard at the touch of a button!
Spiralift are self‐locking at any speed and under all nominal loads and are mechanically synchronized using drive shafts linked via wall shaft traverse conduit(s) to an external drive system itself located in an adjacent dry technical room.
This mechanical connection has an enormous advantage compare to hydraulic cylinders or cables systems on the market, not only aesthetical (no cables visible along the pool walls), the Spiralift will not creep like hydraulic cylinders or stretch like cables over time.
Distinctive characteristics of the Spiralift technology
The Unikpools Spiralift technology respects the existing architectural integrity of your space: everything happens under the water, beneath the floor, where totally hidden drive mechanisms operate silently. Thanks to its superior load capacity and sturdy design, the system has no restrictions on floor finishing material (stone, tile, composite, and more). Most importantly, it makes your movable deck floor look and feel exactly like a permanent one!
With Unikpools Spiralift, enjoy the peace of mind of increased security! The system allows you to create safe spaces for all users, from children to seniors to novice swimmers, by adjusting the height of the pool floor on demand. Raised up to ground level, it prevents anyone from accessing the pool when unsupervised or not in use.
Adapts to pools of any shape, size and finish
Unikpools Spiralift's movable pool floor meets the technical challenges of the most prestigious projects. It works with pools of unique geometry and dimensions and easily accommodates complementary accessories: large footprint pools, small spas, freeform or geometrically-shaped pools can be fitted with multiple independent platforms, retractable stairs, benches, a wet bar or Baja shelves. The system is compatible with a wide range of flooring materials that blend perfectly with any decor, including rot-resistant wood, ceramic tile and hard stone, regardless of the required loading. Unikpools Spiralift offers you countless personalized options!